What's new in macOS High Sierra, we bring you everything new in macOS High Sierra 10.13 released on September 25, 2017 and announced in the past apple keynote
To see if your mac is compatible, check about this mac. macOS high sierra is compatible with the following mac models:
MacBook Pro – 2010 or later models
MacBook – Late 2009 or later models
MacBook Air – 2010 or later models
iMac – Late 2009 or later models
Mac Mini – 2010 or later models
Mac Pro – 2010 or later models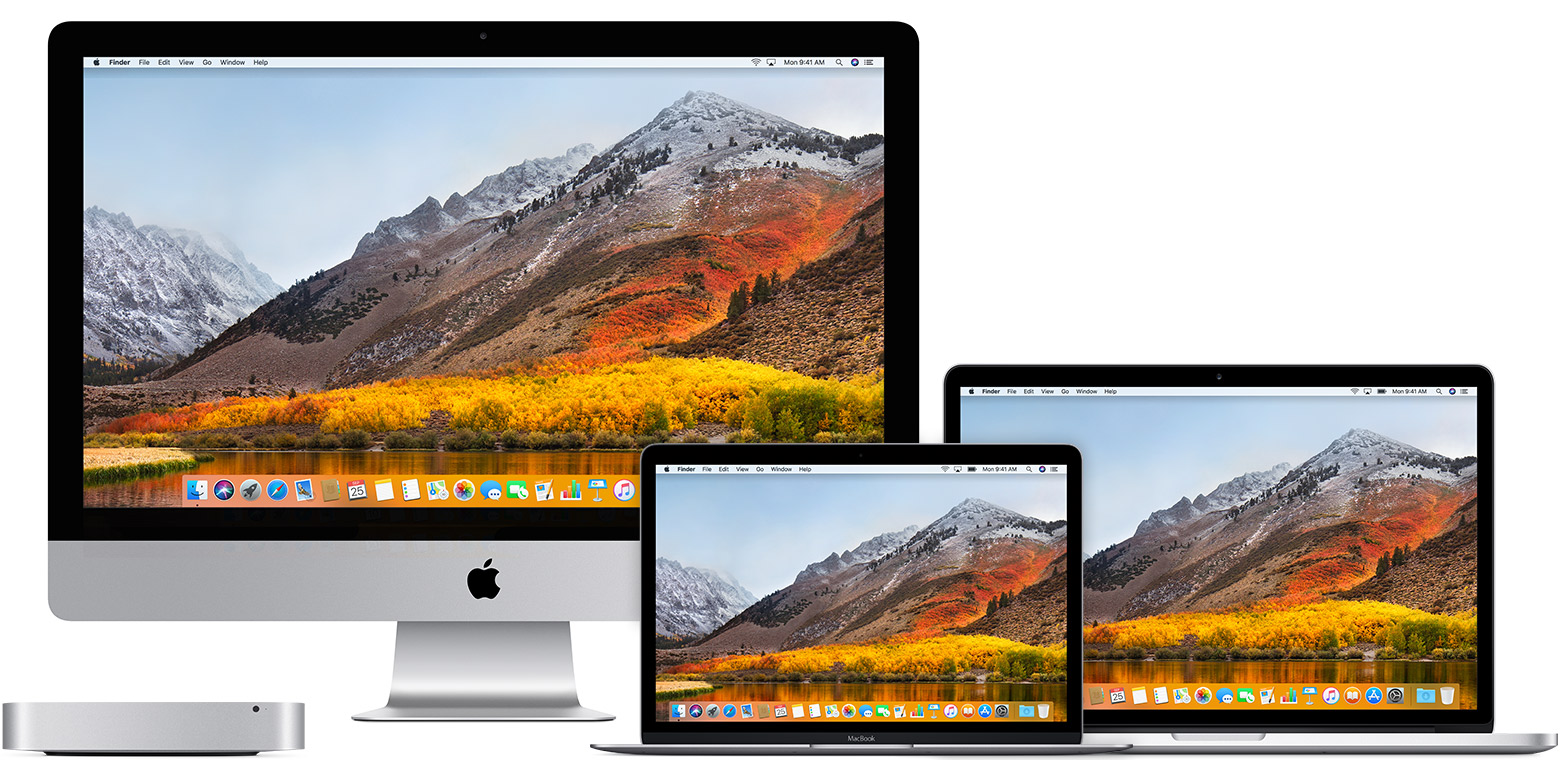 Apple File System: New in macOS High Sierra, the Apple File System (APFS) offers improved performance, security, and data reliability and provides a foundation for future storage innovations. An advanced architecture optimized for today's mass storage technologies, APFS facilitates common operations such as copying files and directories, helps protect data from power failures and system crashes, and protects files with native encryption. macOS High Sierra also maintains full read and write compatibility with legacy HFS formatted disks and data and is designed to accommodate future advances in storage technology.
High-efficiency video encoding: Support for the industry standard HEVC (H.265) enables the transmission and playback of incredible quality 4K video files that are up to 40% smaller than the current H.264.1 standard With HEVC, Apple enables quality video streaming over networks where only HD streaming was previously possible, while hardware acceleration in the new iMac and MacBook Pro delivers incredibly fast and power-efficient HEVC encoding and editing.
Metal 2: Metal is the fastest and most efficient way to harness GPU power on Mac. Metal 2 features a refined API and improved performance that helps developers accelerate their applications. Adds support for machine learning used in speech recognition, natural language processing, and computer vision. The combination of Thunderbolt 3 and Metal 2 gives the most demanding users access to powerful external GPUs. An external graphics development kit provides developers with all the hardware and software they need to optimize their applications.
Virtual Reality: Also new to macOS High Sierra is support for VR content creation for the first time, allowing developers to create immersive, 3D, and VR content on the Mac. Valve is optimizing its SteamVR platform for macOS and enabling connection of the HTC Vive headset, while Unity and Epic are bringing their VR developer tools to macOS. Also later this year, Final Cut Pro X will add support for professional 360-degree workflows with the ability to import, edit, and export 360-degree video.
Improvements for Mac Apps users
Photos: Photos also joins new in macOS High Sierra adds a new permanent sidebar that offers albums and organizing tools. A redesigned editing view includes powerful new tools like Curves, for fine-tuning color and contrast, and Selective Color, for making adjustments within a defined color range. Live Photos can now be edited with fun effects, and Memories organize user photos and videos around several new themes. Photos now supports external editors, so Photoshop, Pixelmator, and other apps can be launched directly in Photos, with edits saved to the Photos library. For the first time, support for third-party project extensions allows users to access printing and publishing services, such as Animoto, ifolor, Shutterfly, WhiteWall and Wix, from the Photos app.
Safari can automatically use Reader to open articles in a clean, uncluttered format, while AutoPlay Lock prevents media with audio from automatically playing in the browser.
Smart Tracking Prevention in Safari uses machine learning to identify and remove tracking data used by advertisers to track user web activity.
Searching for email is made faster and easier with Top Hits, which puts the most relevant results at the top of a user's message list. ○ Siri on Mac responds with a natural, more expressive voice, and when you use Apple Music, it learns music preferences, creates personalized playlists, and answers music questions.
Notes adds simple tables, where a user can enter cells, make changes, and move rows and columns.
Spotlight provides flight status information, including departure and arrival times, delays, gates, terminals, and even a map of flight routes.
Cloud File Sharing allows users to share any file stored in iCloud Drive and collaborate with others.
If you liked this article on the new features of macOS High Sierra, our channel Telegram to receive more articles like this or follow us on Twitter .
---
I am Bhumi Shah, a highly skilled digital marketer with over 11 years of experience in digital marketing and content writing in the tech industry.