Whatsapp is one of the most popular messaging apps on the internet with over a billion users worldwide. It has all the features you'd expect from a great messaging app and boasts end-to-end encryption, the kind of security you need, and is used by almost everyone. However, there are many features that we want that are not in the official WhatsApp.
A built-in app lock, better privacy settings, the ability to send messages to unsaved numbers – these are all highly requested features that the official app doesn't have.
So people turned to mods. Now these mods have become so popular that many people have started using them. You don't need to be an Android expert to install and use them, and the features they offer are much better than the original app, and among the mods, FMWhatsApp and WhatsApp Plus stand out.
Which should you use?
Let me settle that first; all these modifications are practically identical to each other. However, it's the small details that set one apart.
fmwhatsapp
fmwhatsapp it's a WhatsApp MOD which is used to chat with your contacts taking advantage of the additional features it offers. It is a modification of the original application which adds new functions and features not available in the original version.
There are many such MODs out there, but this one is probably one of the best. It is developed by Fouad Mokdad, author of other MODs as well. It is a free application but not official, because it was developed without the authorization of the owners of the original code. Here are some of its features and functions:
New privacy options to hide the time of the last connection, blue checkmarks when reading messages or that we have seen the status of our contacts.
Additional security options to block access to app and conversations using patterns or PIN.
Ability to use two WhatsApp accounts simultaneously on one phone.
Over 4000 different visual themes created by the community to modify the interface.
Lots of customization settings ranging from general colors to the font used for texts.
Increased the maximum file size that can be sent through the app.
Ability to send images in maximum quality without compression.
New emoji packs to use in conversations.
Whatsapp more
Whatsapp morea free downloadable mod to customize the application with options that go beyond those offered by default.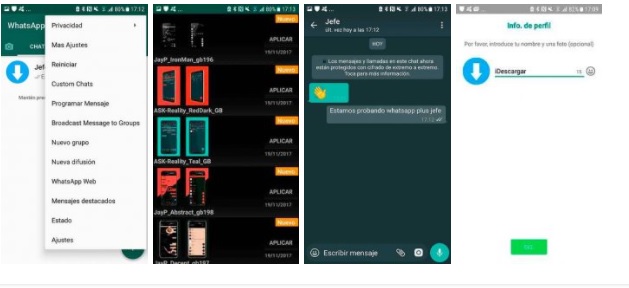 As I mentioned before, used to customize messaging and chat application. It is intended above all for those who are not entirely satisfied with it, and who use it because everyone uses it.
Here is a list of features available when downloading Whatsapp more:
Adapt interface colors or font size to your liking.
Send large audio and video files.
Upload or send photos in their original quality.
Quick sharing features.
Copy paste Partial: Select part of the text you want to copy and paste and send it to your contacts.
Hide profile picture.
Check online times and status from the chat screen.
Install different themes.
Which one to choose ? In our case, the winner is FMWhatsApp for offering more customization options. In any case, the differences in practice are almost non-existent even when it comes to talking about issues and bugs, because with both you run the risk of having your account banned for using an unofficial application and no of them does not allow you to save backup copies in Google Drive, it is only possible to do this locally by managing them manually later. Either of the two will give you advantages over the official client.
I am Bhumi Shah, a highly skilled digital marketer with over 11 years of experience in digital marketing and content writing in the tech industry.