Keylogger elite is a powerful tool that records everything that is written on your mac, it is an application that you must have for all the advantages it offers.
The most common question is: why do I need a keylogger? It's understandable if you're only using the computer, but when there's more than one user in a common workgroup, an app that monitors who's running on the mac is important.
Elite Keylogger for Mac OS X It is the ideal application for supervising all the activities that take place on the Mac, it helps you find out the truth that your children are visiting, it is a hidden, invisible and undetectable surveillance camera on your Mac.
How does Keylogger Elite work?

Invisible
Its installation is done through an image. dmg which will download the necessary files for the application online, in FREE Keylogger elite mode it will be visible next to the applications that are running in the background, while in PRO mode it has the option to hide without leave traces.
It is fully compatible with MacOS Sierra and to activate it you just have to type in the Finder the word that the application itself gives you to be visible, you can change this word. For example: "show" if you write this word in the Keylogger elite finder will show in the clock bar, it also has a password to enter the application, which you can customize.
Capture anything you copy or write.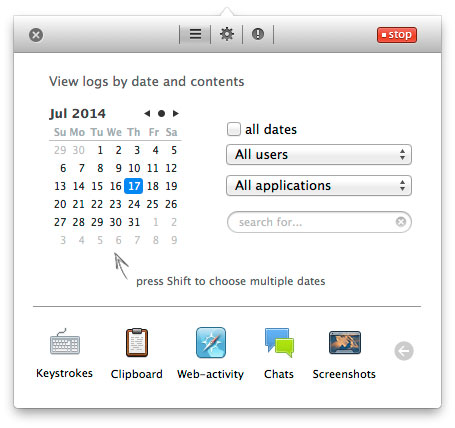 One of the most striking features is that Keylogger elite is designed to copy absolutely every keystroke from any application or screen, anything copied and pasted will be recorded. If you are in a chat like Skype, Telegram or Whatsapp, everything will be copied.
The version PRO logs incoming and outgoing messages from applications, for this the application history must be activated. It offers you screenshots at configurable intervals to observe open windows and applications.
Another point to consider which will be very useful for parents is that Keylogger works and records everything opened in browsers even under the widely used incognito mode so as not to leave a history of visited pages usually porn.
Users and Passwords
Something surprising and that's what everyone is looking for: Keylogger elite captures usernames and passwords used in browsers: FACEBOOK, MAIL, games, etc. Option only available in the PRO version.
Send logs to your email address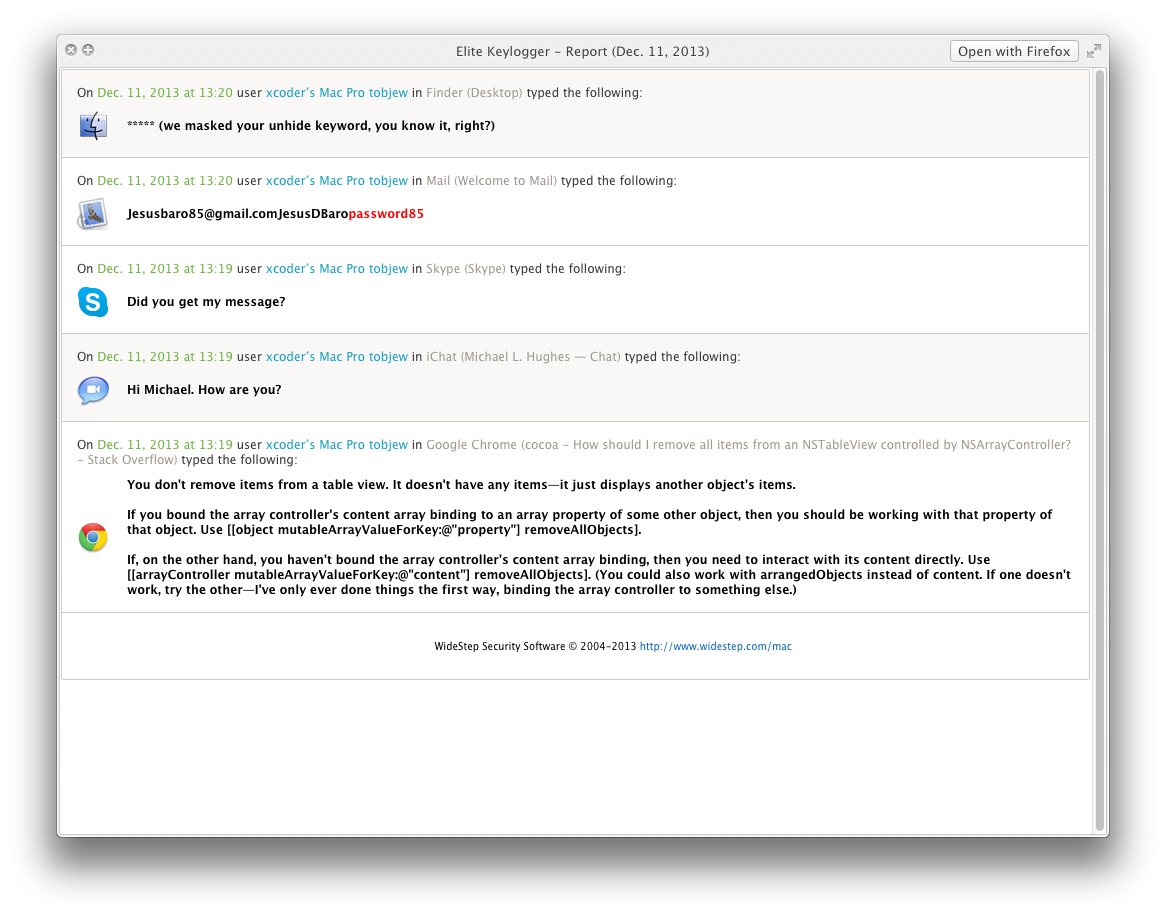 You must add your email and your password so that the same application sends you all the logs collected with the frequency of hours that you configure, for example: every 3 hours. In the email, you will receive all apps that have been opened, everything that has been written, copied and pasted with details such as time, date, app and location.
where to get
Depending on your needs, Keylogger can be purchased for Mac and Windows, from 1 computer to 25 computers or the unlimited computers commercial license. Its price on Mac ranges from $49 to $299 for the professional version.
Get discounts if you buy Elite Keylogger for both platforms.
We offer (1) Keylogger PRO license to our subscribers who contact us.
Follow us and contact us on our networks to get a Keylogger PRO license.
Facebook
Google Plus
instagram
Youtube
Available: 1 License.
I am Bhumi Shah, a highly skilled digital marketer with over 11 years of experience in digital marketing and content writing in the tech industry.