OCR on Mac Os is a somewhat complex task, not every application you get gives you as many functions as Cisdem OCRWizard 4.
Cisdem OCRWizard 4 is an optical character recognition tool for Mac OS that allows you to convert any PDF, scanned image or business card into a text or image file format. Editable and searchable in text.
It handles many export formats and has a character recognition accuracy of 99.8%. With this OCR tool on Mac, convert your PDF to text without the need to transcribe the text.
Regions for OCR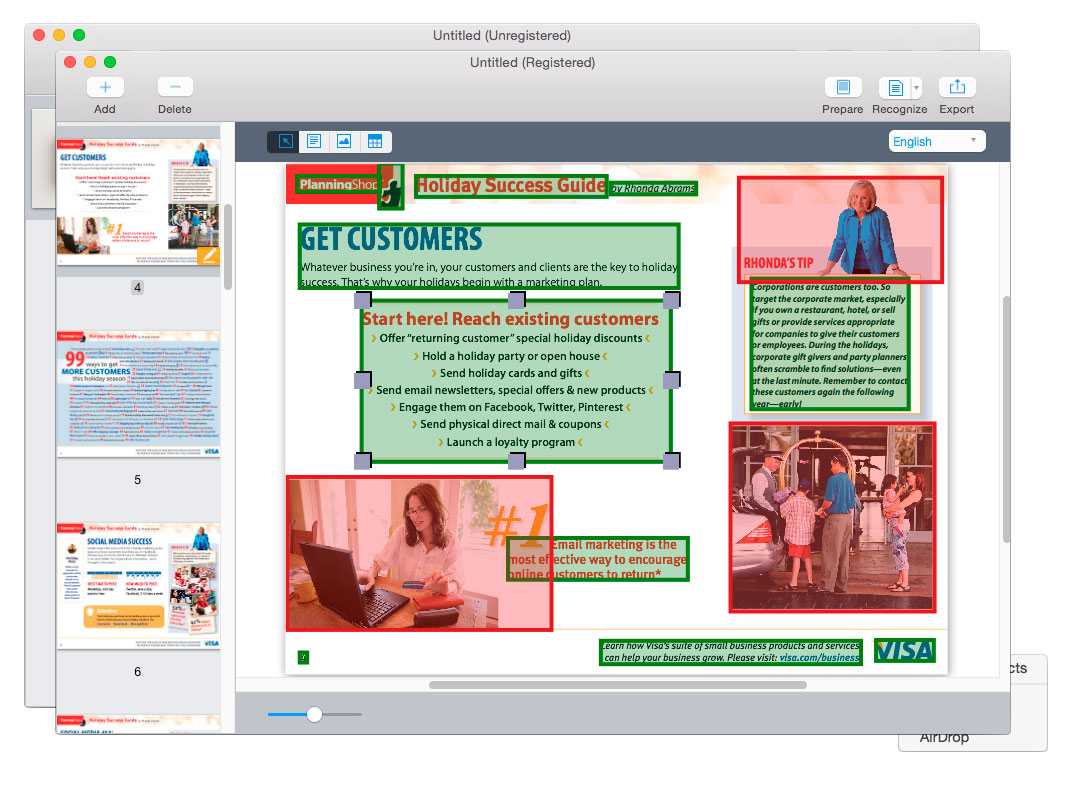 For better document management, different colors are used in each region:
The text is highlighted in green
Images highlighted in red
Tables highlighted in purple.
Editing and OCR correction

Documents containing very complex images may sometimes contain errors, but Cisdem OCRWizard 4 allows you to take control and manage regions of the document to add, modify or delete a specific section.
Conservation of the original design
Optical Character Recognition (OCR Mac Os) is magic with Cisdem OCRWizard 4 because it retains the original formatting of text and editable tags, shared without the need to rewrite or correct the text.
Authorized files
Adobe PDF files (*.pdf) include scanned PDF files.
Image files file (*.bmp), (*.png), (*.tiff), (*.jpg), (*.gif).
With Cisdem OCRWizard 4, export in one of the following formats:
Microsoft Office Word (*.docx)
Microsoft Office Word (*.doc)
Microsoft Office PowerPoint (*.pptx)
Microsoft Office Excel (*.xlsx)
Plain text file (*.text)
RTF format directory (*.rtfd)
EPUB format (*.epub)
Hypertext markup language (*.html)
Pages (*.pages)
Opening speech (*.key)
OpenDocument text (*.odt)
Fiction Book File (*.fb2)
Parsed layout and text object file (*.high)
Picture file (*.bmp) (*.png), (*.tiff), (*.jpg), (*.gif)
Electronic business card file (*.vCard)
Comma Separated Values ​​File (*.csv)
languages
Cisdem OCRWizard 4 has 40 supported languages: Armenian (Eastern), Armenian (Engraved), Armenian (Western), Bashkir, Bulgarian, Catalan, Croatian, Czech, Chinese, Spanish, Danish, Dutch, Dutch, English, Estonian, Finnish , French, German, Greek, Hungarian, Indonesian, Italian, Latvian, Lithuanian, Norwegian (Bokmal), Old English, Polish, Portuguese (Brazil), Portuguese (standard), Romanian, Russian, Slovak, Slovenian, Spanish, Swedish, Tatar , Turkish , Ukrainian, Norwegian and more.
Minimum System Requirements:
1G Hz processor or higher.
512 MB of RAM or more.
1024×768 resolution or higher.
OS X 10.10 Yosemite, OS X 10.11 El Capitan and macOS 10.12 Sierra.
Price:
Cisdem OCRWizard 4 It is priced at $59.99 with a 30-day money-back guarantee.
---
I am Bhumi Shah, a highly skilled digital marketer with over 11 years of experience in digital marketing and content writing in the tech industry.