Documents is an app for better file management on iPhone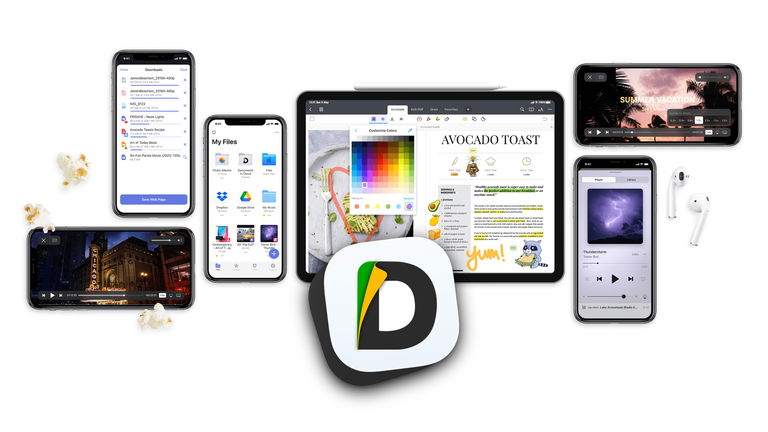 Did you know that your iPhone can work as a stored file manager? That's right, if you ever need store content whether you don't want to be so visible, accessible, or want to manage them outside of iCloud, here's a great app that will do it all.
We recently informed you which is the best app for taking notes on your iPad, and wanting to complement your productivity apps I'm going to tell you a bit about an application that will allow you to backup and manage your files in an incredible way.
While iOS "Files" lets you manage documents, media, and more between apps and your iCloud cloud storage, that's not always what we're looking for. There are times when we need to move, copy and even work with documents or content in a way more personal.
To do this, some options in the Apple Store allow us to perform these actions. However, they may be limited or features are available by subscription. For this reason, this time I invite you to give a chance to Documents, the hub of all your files.
Do everything with Documents
Documents is an application that functions as a tool for store and organize your files easily, quickly and safely. Among its many advantages, some make this application one of the favorites of users.
With Documents, you can transfer files from your Mac or PC computer directly to your iPhone without the need to be connected by cable, only via WiFi. You can put them away within the application to organize them into categories or folders and have them available without having to be connected to the internet.
You can also do downloads files from the web to store them on the iPhone thanks to its integrated browser. This has the advantage of having a vpn which will allow you to navigate safely and without limits.
Organizing and managing files is easy with its user-friendly interface. You can integrate your cloud storages to work with them, export and import your reel content and also, see and play averages within the same application.
read and modify files like PDFs, manage your files with smart actions and enjoy the full power of Documents on your iPhone or iPad.
Learn more about Docs
This app is free with additional paid features. However, I can assure you that it will only be a plus, since the application itself is already very complete and very well designed to offer performance and control over it.
It has many functions that we can find in different applications, but united and available in one. Moreover, it has awards and recognitions all over the world, which undoubtedly guarantees that you will be working with one of the most essential applications for your Apple devices.
"It's a tool that helps you organize yourself better." -The edge
"The app is super fast, looks good, and options are easy to find and use." -The Next Web
"A versatile and amazing app for consumers and businesses." -USA Today
Previously we have already talked a little about Documents when we found applications to manage your files, but we had to delve a little deeper with it so that you know in detail all its advantages and you can enjoy it to the fullestor discover a new application that will help you a lot in your everyday life.
And if you want to know more about the other best apps and games we find in the Apple Store, follow our information carefully.
But for now, what do you think of Documents, did you already know that? Does it deserve to be one of your essential apps for productivity?
I am Bhumi Shah, a highly skilled digital marketer with over 11 years of experience in digital marketing and content writing in the tech industry.