Ulefone is one of the leading smartphone vendors in India. But, with a large number of options currently available from the company in different price ranges, you are only limited by your budget. This time we will focus on off-road models from the "Ulefone Armor" line.
So here is a list of Ulefone to choose from that offers the right combination of hardware and features within the given price range of Ulefone phones.
Ulefone Armor 10
The Armor 10 faithfully follows the design philosophy of previous Ulefone smartphones. Reinforced rubber corners, metal frame and larger than average bezel. With a 6.7 inch screen, it is a phablet.
Its dimensions (176.5 x 82.8 x 14.55mm) and weight (333g) mean it's a far cry from the slim profile of its non-rugged brethren. A large battery and additional protections, essential for MIL-STD-810G / IP69K certifications, unsurprisingly only make it heavier.
A flap covering a Type-C connector sits on the bottom of the Armor 10. A volume rocker and power button sit on the right, while a dedicated customizable button and SIM/memory card tray sits on the right. are on the left side.
The rear houses a speaker grille and four camera sensors alongside logos. 5G and Ulefone . Between the two is a discreet octagonal fingerprint reader. We're a little concerned with the island's design, however, as it protrudes so slightly that the flimsy sensors could withstand the full force of a drop after landing on a hard surface.
Like all of its competitors and many entry-level 5G smartphones, the Armor 10 is powered by a Mediatek Dimensity 800 processor. The MT6873, as it's also called, combines a quartet of Cortex A76 cores with four A55s and a Arm GPU set. Mali-G57.
Armor Ulefone 9
The Ulefone Armor 9 is a highly durable smartphone that is built from the ground up to withstand impact and meets a wide range of standards including IP68, IP69K, and MIL-STD-810G. Can be immersed in water at depths of up to 1.5 meters for 30 minutes, exposed to high pressure water jets and steam cleaning, dropped from a height of 1.2 meters , resistant to dust, acids and low pressure.
The 6.3-inch 2340 x 1080 FHD+ 410 PPI multi-touch LCD screen with IPS technology is nice and big, and can be used with gloves. The octa-core MediaTek Helios P90 processor is fast and gets things done smoothly, and 8GB LPDDR4x dual-channel RAM means
The Armor 9 has tons of storage (128GB), which means plenty of room for photos taken with Samsung's 64-megapixel Tetracell rear camera.
Power is provided by a huge 6,600 mAh lithium-ion polymer battery, which can be charged via the USB-C port.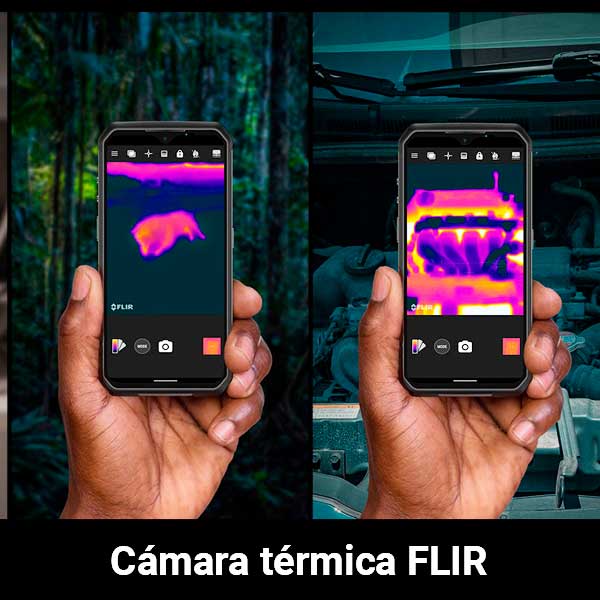 Oh, and there's this incredible FLIR Lepton thermal imaging camera which is assisted by a 5 megapixel rear camera with a -10℃ to 400℃ range which is an amazing diagnostic tool for technicians.
Ulefone Armor X8 Pro
The Ulefone Armor X8 is 79mm wide, 160.3mm long and 13.8mm thick. It's a bit fiddly to handle with one hand. The weight of Ulefone Armor X8 is 256.3g. It feels heavy when held in one hand. It is a weight that can tire some people, even in a short time. However, it is a weight that does not matter so much if you operate it with two hands.
When evaluating the general ease of handling of the Ulefone Armor X8, some difficulties are encountered, but if used with a good understanding of its weaknesses and strengths, these should pose no problems. problem.
The screen size of Ulefone Armor X8 is 5.7 inches. Its large screen leaves an excellent impression. Whether photos, videos or games, it shows everything in a big way, and if on the other hand you want to use it for writing professional texts or for professional tasks, it also works very well.
The Ulefone Armor X8 has a pretty clean screen. It's a level that won't cause problems in day-to-day use, but it can be a bit unsatisfying for people who want to enjoy more photos, videos and games.
With a processing performance of 1.8 GHz + 1.5 GHz × 8 (Octa core), the Ulefone Armor X8 runs almost all applications without any problem. It is considered high end even compared to any other device in the market. Not all devices are capable of running demanding high-quality 3D games, but this one offers a stress-free gaming experience.
Ulefone Armor X8 has a RAM capacity of 4GB which is considered to be more than enough. In very rare cases, the RAM memory capacity may not be enough, but if you have this amount, you will hardly be affected by the RAM.
It offers a good user experience and considering the processing speed of the Ulefone Armor X8, it can be considered a high-end smartphone. However, use applications that put a lot of strain on the system, such as 3D games, sparingly.
I am Bhumi Shah, a highly skilled digital marketer with over 11 years of experience in digital marketing and content writing in the tech industry.